The Saga Of Tumor McGee
on 10/02/17
When my son left home to go to college, he started out in a dorm, and missed his cat terribly. Unfortunately, the only pets allowed in the dorm were fish, so he hauled up a 10-gallon tank and loaded it up with 5 or 6 tropical fish (mostly danios and mollies). I once heard fish described as the perfect pet - you never have to walk them or change a litter box, and just before you get attached to them, they die. By the time he graduated and moved home (with fish tank in tow) there were only about 4 or 5 left. On zebra danio in particular developed a red swelling on its stomach. I was sure that we were about to be graced with a bunch of danio babies. But time passed, and no small fry appeared, although the red spot started to swell to alarming size.
Incredibly, the swelling itself became almost as large as the rest of him, and my son named him Tumor McGee (he has a morbid sense of humor). We were sure he was going to be the next fish to succumb to the usual fishy diseases that fairly quickly claim most tropical fish. One by one, the tank's occupants turned belly up from one cause or another until only one fish was left. You guessed it - Tumor McGee was still happily swimming around doing his little fishy thing while all the others went for that final burial at sea ("flush ...").
I look at him swimming around, with his tumor steadily growing larger, and have considered more than once "putting him out of his misery" like a responsible pet owner. Except for one thing - he doesn't seem to BE in any misery! He is eating well, swimming well, not sitting on the bottom or exhibiting any signs of distress whatsoever! He is just going about his fishy business, living his fishy life with no regard to what I (an outsider) might think about the quality of his life.
He is an inspiration to me. Every day, I go to feed him, and watch him swimming up to greet me (yes, I know he's really just going after the food!), and marvel how he doesn't let anything like a tumor the size of his entire stomach slow him down. I am humbled to think that he has taken in stride something I would consider a major stumbling block. Maybe we all could take a page from his book when we are feeling particularly low, and learn to keep going on in spite of everything. I know Tumor McGee doesn't let it get him down - maybe I can learn from him!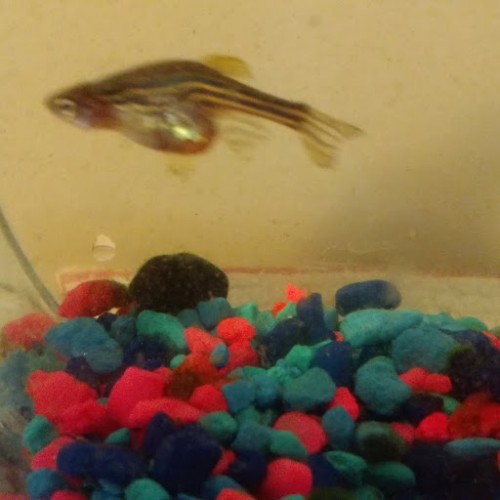 See all blogs by Newbie Dana
Comments: