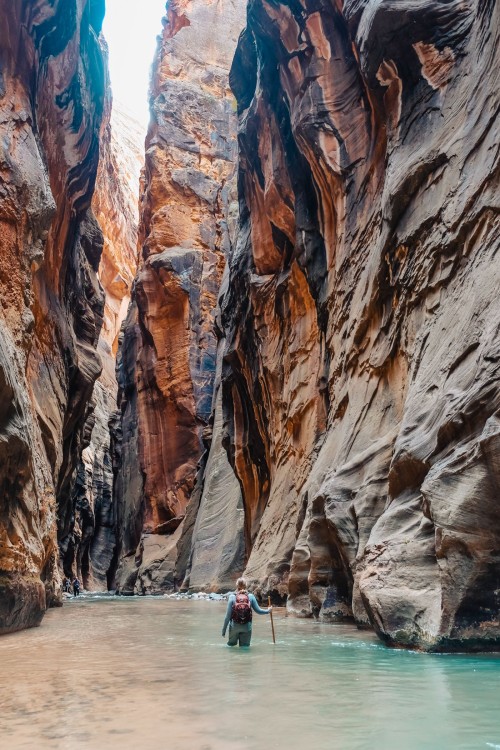 ARRIVING IN UTAH IN 2004, WE COMMENCED AN ONGOING EXPLORATION of its multiple national parks, beginning with Zion, which was close to our home. The next chance we had, we headed north to east to explore Bryce Canyon. The third park we made it to was Capitol Reef, where there is a lot of natural staining on the sandstone walls that is called desert varnish, vertical streaks on the rock that look like some vandal stood at the very top of the escarpment and poured dark paint over the lip of the cliff. Finally, to Arches and Canyonlands.
Desert varnish is a thin red-to-black coating found on exposed rock surfaces in arid regions such as Utah's national parks. It is composed of clay minerals, oxides and hydroxides of manganese and/or iron, as well as other particles such as sand grains and trace elements. The most distinctive elements are manganese and iron.
The color of desert varnish depends on the relative amounts of manganese and iron in it: manganese-rich varnishes are black; iron-rich varnishes are red or orange; varnishes with similar amounts of manganese and iron are various shades of brown. Varnish surfaces tend to be shiny when the varnish is smooth and rich in manganese.
One of the most striking examples of this phenomenon that I've seen is on the sheer vertical walls of the Narrows in Zion National Park (see photo). Working our way down the center of the Virgin River in about two to four feet of water, the walls towering over both sides of the river are covered with desert varnish. This exciting hike requires good water shoes to protect your feet from the rocky river bottom, plus a stout pole for maintaining your balance as the current buffets your legs. It is just one of the incredible highlights of this wondrous place.