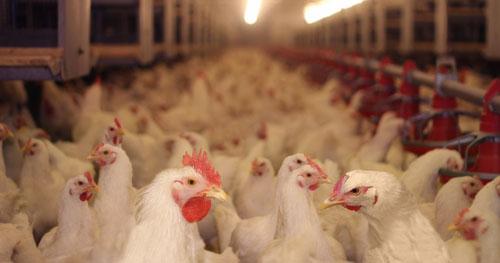 ONE SUMMER WE WERE DRIVING in the Appalachians, enjoying the rural atmosphere and the beauty of the curvy roads through green hills, when we ended up behind a medium-sized flatbed truck loaded with cages, all strapped down and secured.  The cages were filled with live chickens and the speed of the truck was enough to cause thousands of white feathers to come flying out of the cages, filling the air all around us like a winter snowfall.   It didn't take much imagination to realize where this truck was headed and what would be the fate of all these doomed birds.  Losing their feathers like that was as if they had given up hope, as if they knew their destination.  After just a minute or two, my wife had had enough.  "PASS HIM!" she yelled.  "PASS HIM!"  Nothing will bring a couple of happy vacationers down faster than getting caught behind a truck on the way to the abattoir with a few hundred living creatures.  Even my spouse, an ex- farm girl, couldn't handle it.  It was probably a couple of weeks at least before either of us ate chicken again.  
Talk to others with an Ostomy
29,519 members
MeetAnOstoMate is the largest, independent website for people with an ostomy surgery. A vibrant, multi-topic community where people discuss various things, and give each other love and support.