Hiya--
It is with a heavy heart that I share with you today that on Tuesday, January 10th, we had to put down one of our cats Shadow. Shadow was at the vet for his annual check up on 12/2/2022, and other than needed a dental cleaning, the vet said that he looked really good. All of his blood labs came back good (Shadow would have been 16 on April 1st). Shadow was fine on Christmas Eve, and then a week later, I noticed some severe drooling, so, I called the vet and asked if the drooling could be caused by the fact that maybe he had some bad teeth and asked if his dental appt could be moved up, I was told that they were all booked up and kept the appt that was scheduled for 1/12/23. Then on Friday, 1/3, I took him back to the vet for an emergency appt--as Shadow presented with difficulty eating, still severe drooling and when I was wiping off his little chin, I noticed a red tinge to the drool. 
I received a phone call from the vet at approximately 11 am and she informed me that Shadow had a huge tumor under his tongue and was diagnosed with Oral Squamous Cell Carcinoma, no treatment is available and that she would recommend euthanizing him as soon as possible as he was in so much pain, What??? What the hell happened between 12/2/2022 and 1/3/2023??? I asked her if she checked under his tongue when he was there for his vet visit in December, she said no, that she just looked at his teeth, and that they usually don't check under their tongue, cuz they bite. Of course they will bite when you are examining their mouths, they are animals!
So on Tuesday, 1/10, my daughter hired a lovely service to come in and do a home euthanasia, where Shadow could pass away at home surrounded by my daughter (yes, the same snarky daughter that I have written about before--and I must also say that she was just horrible to me on the day of Shadow's passing) and the other kitties that he has grown up with (including his brother Pooh Bear from the same litter). It was still a day full of tears, but the sweetness of Pooh Bear who walked over and licked his brother on the head before Shadow passed was truly heartbreaking.
Thank you all for letting me share this tragic and sad story about our little Shadow. Now he is out of pain, frolicking among the cat mint plants, chasing leaves and enjoying some chicken fried rice (his favorite).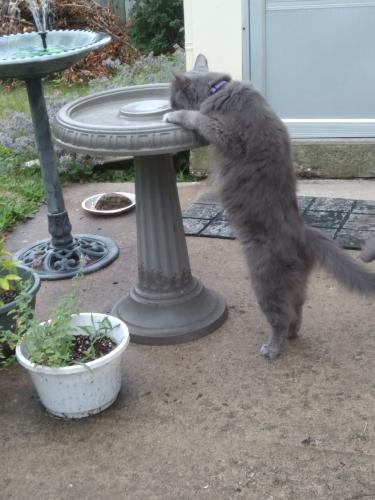 Talk to others with an Ostomy
29,505 members
MeetAnOstoMate is the largest, independent website for people with an ostomy surgery. A vibrant, multi-topic community where people discuss various things, and give each other love and support.