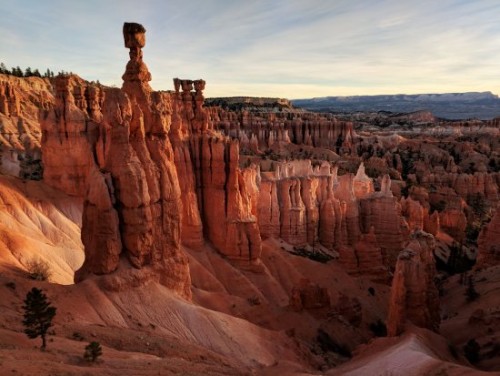 HOODOOS ARE FANTASTICALLY SHAPED SANDSTONE REMNANTS in the American West. Some are pictured in my Photos. They form over long periods of time from sporadic, intensive rainfall erosion of steeply sloped but horizontally layered sedimentary rock. What's left is a free-standing pinnacle, sometimes with an overhanging cap of resistant stone. Small versions are called goblins, in places like Goblin Valley State Park in Utah. Bryce Canyon National Park, not far from where I lived in southern Utah, is filled with hoodoos, one of which is so predominant that it has been given a name: Thor's Hammer. In the attached photo, it is the tallest shape on the left side of the picture. The word HOODOO dates back at least into the mid-19th Century. In his 'Specimen Days,' Walt Whitman mentions his regret that he never got to see the hoodoo or goblin land. Since the odd shapes often appear as spirited forms, it's not surprising that they have been named with a variant of voodoo. They can often seem malign, or whimsical, depending on their often irregular or massive appearance. They're like specters out of dreams turned to stone.
Talk to others with an Ostomy
29,514 members
MeetAnOstoMate is the largest, independent website for people with an ostomy surgery. A vibrant, multi-topic community where people discuss various things, and give each other love and support.