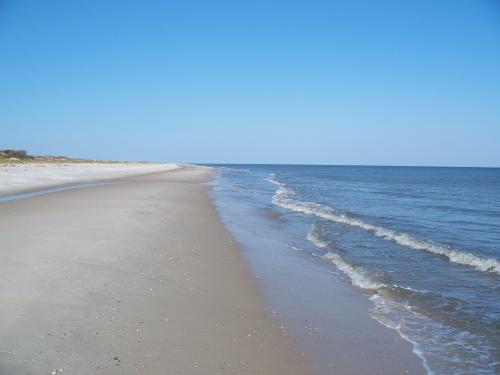 APPROACHING APALACHICOLA, FLORIDA from the east along U.S. Highway 98, a driver is surrounded by the ominously named Tate's Hell swamp on the right, unseen behind some coastal houses, and St. George Sound on the left, separated from the Gulf of Mexico by a 22-mile-long barrier island called St. George Island.  Turning left at Eastpoint, just ahead is the 4-mile-long bridge to the island where the vista opens up with water on both sides and the glare of the sun reflecting off the water's surface.  As big as it is, the sky appears even bigger than usual as one begins to cross the long bridge.  Ahead is the narrow barrier island, stretching parallel with the coast, and the seagulls are there en masse to greet the new arrivals, flying in rows alongside the bridge, their beady eyes intent on their flight path.  This area is a seafood lovers paradise as the local fishermen pull from the bay and the Gulf oysters, scallops, crab, grouper, flounder, redfish, snapper, mullet, and more.  You can stop in the Red Pirate for a feast before crossing the bridge, or eat at the Blue Parrot once you get to the island, or head into Apalachicola itself for more possibilities.  There are no high-rises on the island, and although the shelling isn't great, the beach itself is pristine and a nesting area for loggerhead turtles through the summer months.   The Gulf is typically calmer, and warmer, than the Atlantic Ocean.  Once you're relaxing at the beach, the only excitement is watching the pelicans fly back and forth hunting for a meal, diving into the water once they spot their prey, then pulling out and up with their bill pouch full.  I live about an hour away and don't go there enough.  I guess I've outgrown my beachboy days.  
Talk to others with an Ostomy
29,495 members
MeetAnOstoMate is the largest, independent website for people with an ostomy surgery. A vibrant, multi-topic community where people discuss various things, and give each other love and support.