A while back Rae and I did a couple of name generator games, I think they were superhero and supervillain themed. I've found one that's horror themed, specifically the title of your horror novel. Take your birth month, the first letter of your first name, and the last letter of your last name, and put it into the format of:
The (birth month) of the (first letter of first name) (last letter of last name)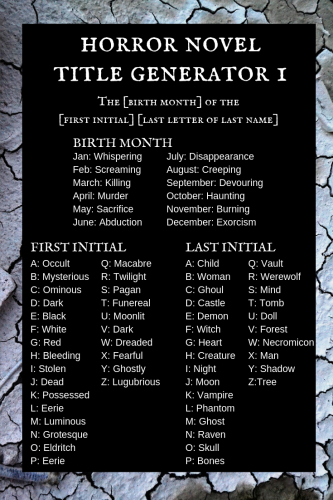 if I use my real name, I get "The Killing of the Ominous Tomb". If I use my MaO name, I get "The Killing of the Luminous Necromicon".  I had to look up necromicon and I found out it's an alternative name for The Book of the Dead. For the first one, I'm imagining it's set in a graveyard, and there's a tomb inside the mausoleum that's in the graveyard, and someone who's done some grave desecration has released a terrible curse! For the second one, I'm imagining an evil government is trying to destroy a brightly glowing book of the dead, and the rebel forces are trying to protect it, while slowly being picked off one by one. 


Now it's your turn!